About Spacelabs
Welcome
Welcome on the website of the Society Pursuing Achievements in Communications Embracing Linux Architectural BasiS, pronounced as Spacelabs.
Who are we?
We are a group of students at Technische Universiteit Eindhoven in the Netherlands. The group consists of both electrical engineering and computing science students and researchers.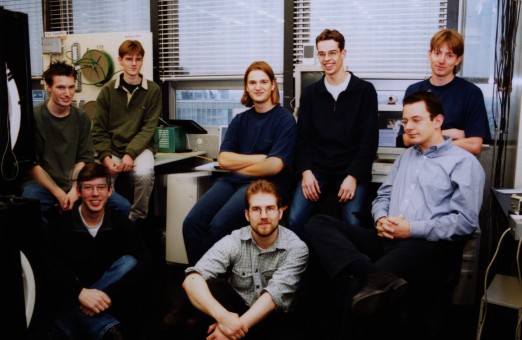 Upper row, left to right: Marcel Moreaux, Emiel Neggers, Christian Luijten, Paul van Tilburg, Sjoerd Simons
Lower row: Marcel de Boer, Mark van Eijk, Jacco Kwaaitaal
What do we do?
We do research during our spare time in different areas such as:

GPRS


Bluetooth


Wireless LAN


Using FireWire


High quality video conferencing (DV)


Home automation


Video-on-demand