Kitchen cleaning
As it is always an enourmous mess in the kitchen of the Spacelabs room, I've decided to make a small image-guided howto on cleaning this kitchen.
Desired state
This is the desired state of the kitchen after the cleaning process has fully taken place. Click on the image to zoom in to the larger version. Notice the homogenous colour of the tabletop and the acrylic litter can with a basis of toilet paper to extract water from used teabags.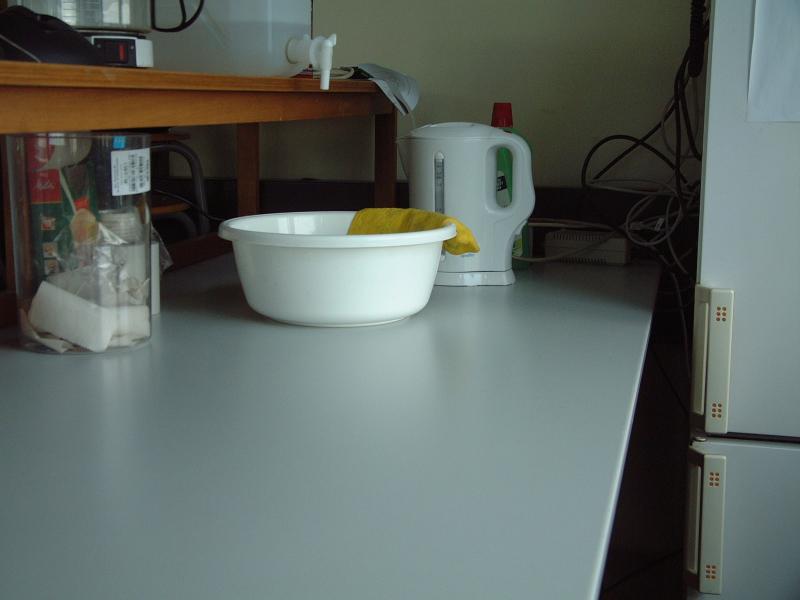 Algorithm
Get a trash can
Throw old teabags and other larger pieces of junk in the trash can
Boil some water
Pour some water in the washing-up bowl already available in the kitchen
Pour about the same amount of boiled water in the bowl
Some 'Allesreiniger' can be added to get a better effect on the greasy surface
Take a rag, put it in the water, so that it is good wet
Contort the rag. Ensure it is now not dripping wet, but merely moist
Polish the surface of the table until it is clean
If there are any other surfaces that want to be cleaned,
then do so now,
else they will never be
Take any other objects that don't belong in the kitchen or that already have a place of their own away
If your kitchen is now clean,
then continue,
else go back to point 7
Throw the water - which is now dirty and the kitchen isn't - away
Empty the acrylic litter can in the bigger trash can
Put some sheets of toilet paper on the ground of the litter can
As a good example, you could throw an old teabag in it, to show its purpose to others
Examples of false states
This picture is taken a few days after a kitchen cleaning process has taken place.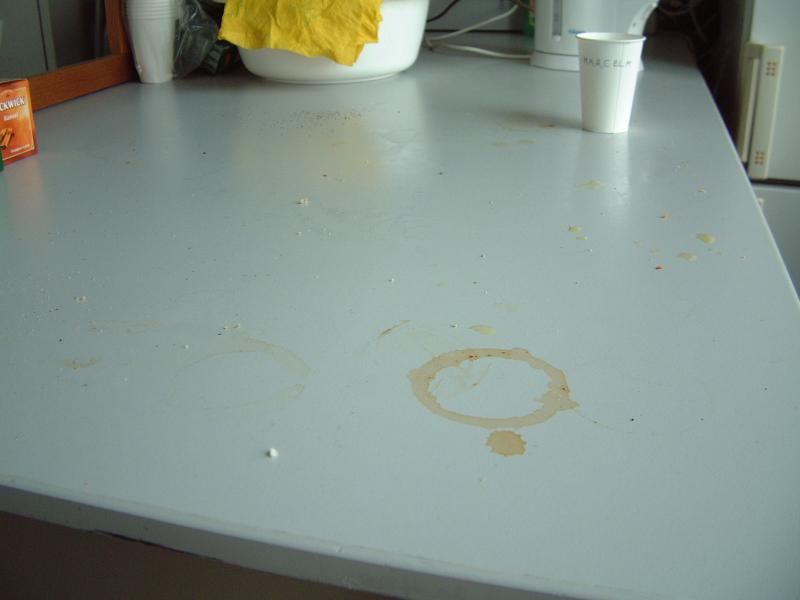 This picture is taken a few days before a kitchen cleaning process has taken place.